Map Search
Map Search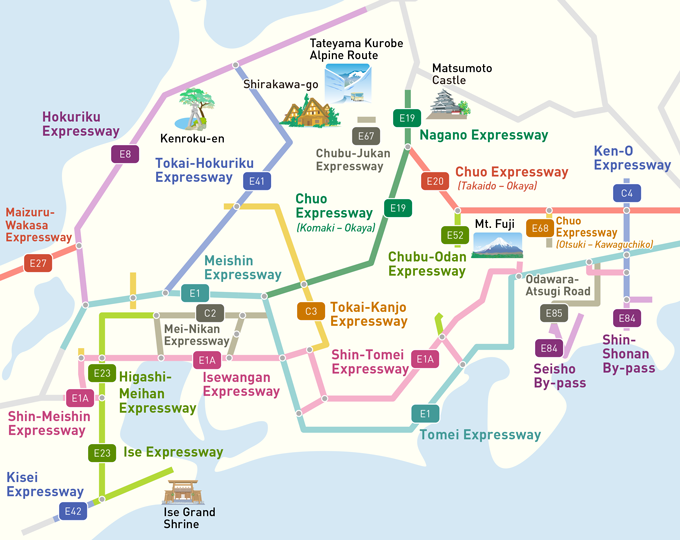 There are no service areas or parking areas on Chubu-Jukan Expressway, Mei-Nikan Expressway or Shin-Shonan By-pass
There are no service areas or parking areas on this road.
Expressway
Number
Expressway Name
E1
Tomei Expressway, Meishin Expressway
E1A
Shin-Tomei Expressway, Shin-Meishin Expressway, Isewangan Expressway
E8
Hokuriku Expressway
E19
Chuo Expressway (Komaki – Okaya), Nagano Expressway
E20
Chuo Expressway (Takaido – Okaya)
E23
Higashi-Meihan Expressway, Ise Expressway
E27
Maizuru-Wakasa Expressway
E41
Tokai-Hokuriku Expressway
E42
Kisei Expressway
E52
Chubu-Odan Expressway
E67
Chubu-Jukan Expressway
E68
Chuo Expressway (Otsuki – Kawaguchiko)
E84
Seisho By-pass, Shin-Shonan By-pass
E85
Odawara-Atsugi Road
C2
Mei-Nikan Expressway
C3
Tokai-Kanjo Expressway
C4
Ken-O Expressway
Notes:
1.

Detailed information is not available at some service areas and parking areas. Refer to the entire map for service area and parking area locations.

2.

Not all routes have service areas and parking areas.
About Rest Areas (SA/PA)
Rest areas are formed at regular intervals for your safety and comfort while driving on our Expressways. There are two types: service areas (SAs), which are larger and located about every 50 km, and parking areas (PAs), which are smaller and located about every 15 km.